Item description
base kit : Nissan GT-R (R35) by Bandai
scale : 1:43
version : Proportional model
material : Plastic
body color : Titanium gray
Comment
今まではコンテストや受託製作がメインでしたが、この度販売製作を開始しました。
第1回目はバンダイから発売されたGT-Rシリーズです。
このキットはパーツ全てが塗装済みですので、ルームミラー、ナンバープレートのディテールアップとボディ以外の再塗装です。
今後発売される1/43スケールのキットもこうして製作し販売していこうと思います。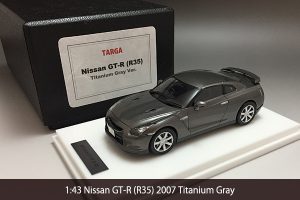 Until now it was the main contest and contract production, but I have started for selling built-up.
First they are GT-R series released from Bandai.
This kit has been painted all parts. I detailed up of room mirror and # plates and repainting other body parts.
I am going to also manufacture and sell the kit of other 1/43 scale to be released in the future as well.