Item description
base kit : Peugeot 206 WRC kit car 1998 by PROVENCE MOULAGE and Peugeot 206 WRC '00 by Heller
driver and co-driver : Denizen
version : Diorama
body color : silver
Comment
今回2度目のジオラマ製作は、プジョー206です。今回の製作のきっかけもコンテストに出展するためです。こちらのジオラマは以前から構想にあったので、特に資料はなく自分の中でのイメージで製作しました。注意した点はラリーカーということもあって、あまり大袈裟にならないように汚してみました。
1/43のジオラマ製作は面白いですね。今回何より嬉しかったのは、この作品がコンテストで入賞できたことです。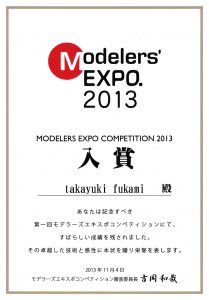 I challenged building diorama again for contest. This time I tried rally car of Peugeot 206. I had the plan for a long time again so I didn't need material.
I tried to pollute to be like too exaggerated because it does not look unnatural of rally car.
I think it is interesting buiding the diorama of 43.
I won in the contest make me happier than anything else.