Item description
base kit : Gordini 2.5L Le Mans 1954 by Provence Moulage
version : proportional model
body color : Light Blue
Comment
Gordini T15のキットはシンプルで綺麗なボディラインに魅力を感じ購入したのですが、実は"Gordini"というメーカーの名前、歴史は全く知りませんでした。
製作を始めるにあたりGordiniというメーカーを調べれば調べるほど、歴史・技術があるメーカーだったと痛感し、慎重に製作しなければいけないとプレッシャーを感じながら完成させたキットです。
今回とても苦労したのが資料集めでした。この1954年のT15というバージョンの資料はほとんど入手できず、付属していたマニュアルと後年の同バージョンT15Sを参考に製作した次第です。実車と異なる箇所はフロントのゼッケン手前にある車種識別番号です。実車は白ですが、付属していたデカールの黒で表現しています。
拘りと言えば、ボディ色のライトブルーです。近似色が見つからず、オリジナルで調合して塗装しています。
Gordiniのマシンは他にも魅力あるマシンがまだあるので、また他バージョンで製作する機会がありそうです。
このキットは今、実際にドライブしたAndré Guelfiの手にあります。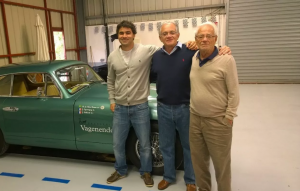 I purchased this kit because I felt the body line of Gordini T15 is beautiful, but I did not know about Gordini and their history.
I studied about them. I realised Gordini was a great manufacture with a history and technology. I finished to model this kit while feeling the pressure.
It was very hard to collect materials about Gordini T15, I built that referring to that later version of Gordini T15S. It is different from identification number of the front. It really is identification number of white color, but I used to black color of decal with a kit.
I had a hard time, it is light blue color of the body. I could not find approximate color, so I painted to kit with the myself color.
I am going to get opportunity modeling in the other version, because Gordini had many machines.
This kit is now in the hands of André Guelfi who actually drove.