Item description
base kit : Sauber Ford C14 1995 by BBR
crew : Denizen
version : Diorama
body color : Blue
Comment
このジオラマを製作するきっかけは、"モナコGP"というコンテストがあったからです。このジオラマ製作の構想は以前からありましたが、今回この機会に初めてジオラマ製作に挑戦してみました。感想から言えば、製作は面白いがとても難しいですね。
ザウバーのマシンは、ニッパーでキットのウィングなどを切断し製作しています。後方にある像の花壇にはドライフラワーを塗装し使いました。
ジオラマ製作は単純にキット製作以外にも時間を要するので、製作時間が全く読めませんでした。
資料はあるWEBサイトから使用しました。
製作後、モナコの友人からこの作品を見てメールが来たときはとても嬉しかったです。
いつかこの場所に行きたいですね。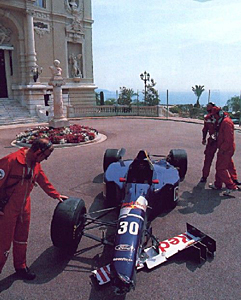 The opportunity to built, there was a contest called "Monaco GP". I challenged building diorama first experience for me, but I had the plan for a long time. To built a scale of 1/43 diorama, I can say "interseting!", "difficult!".
I cut with nippers to hard parts. It was very regrettable, because I had to pollute to the perfect Sauber C14. The flower bed is handmade. I painted to the dried flower. They were quite a hard time for me.
I picked up from the website on the material.
I was very happy when got e-mail from Monaco's friend.
Someday I would like to go to this place.